Hello again! It's been a while, it's been a crazy year so far, our son Charlie was born on January 2nd, and It's been the busiest year for Wouldn't it be Lovely yet working on over 60 weddings so far this year! So now that it's fall and there's a small (always smaller than I think it'll be) lull between the end of 2016's busy season and the begining of 2017's (it gets crazy after thanksgiving and basically stays insane until September) I'm hoping to get back in the swing of blogging and sharing everything that's been going on over here, starting with Charlie's nursery which was recently published on Style me Pretty. First off... Meet Charlie:
We think he's the cutest. He's an amazing baby and I'm loving every single minute with this peanut. So on to the nursery details....
My husband has always let me run amok when it comes to any design elements in our house, so the nursery wasn't any different. We didn't find out the sex before we had him, but it wouldn't have made much of a difference if we had since I've never been big on the whole stereotypical gender design elements anyway. I knew I wanted it to be travel themed as it's always been an important part of our lives. I found the city toile paper from Rifle Paper Co. it basically set the tone and everything came together from there!
All the accessories in the room are a mix of toys and books from ours and our parents childhoods and fun new modern elements I couldn't help myself from getting! I've listed all the elements below should you want to know! A couple recommendations... the Keekaroo changer worth EVERY penny! I can't imagine what would have happened if we had one of the changers with a fabric cover, it would have meant 1000% more laundry in our house, it's SO easy. LOVE our glider
it's another worth every penny piece, you spend SO much time in that chair and I wanted it to be something that I would want to have in other rooms in our house down the road.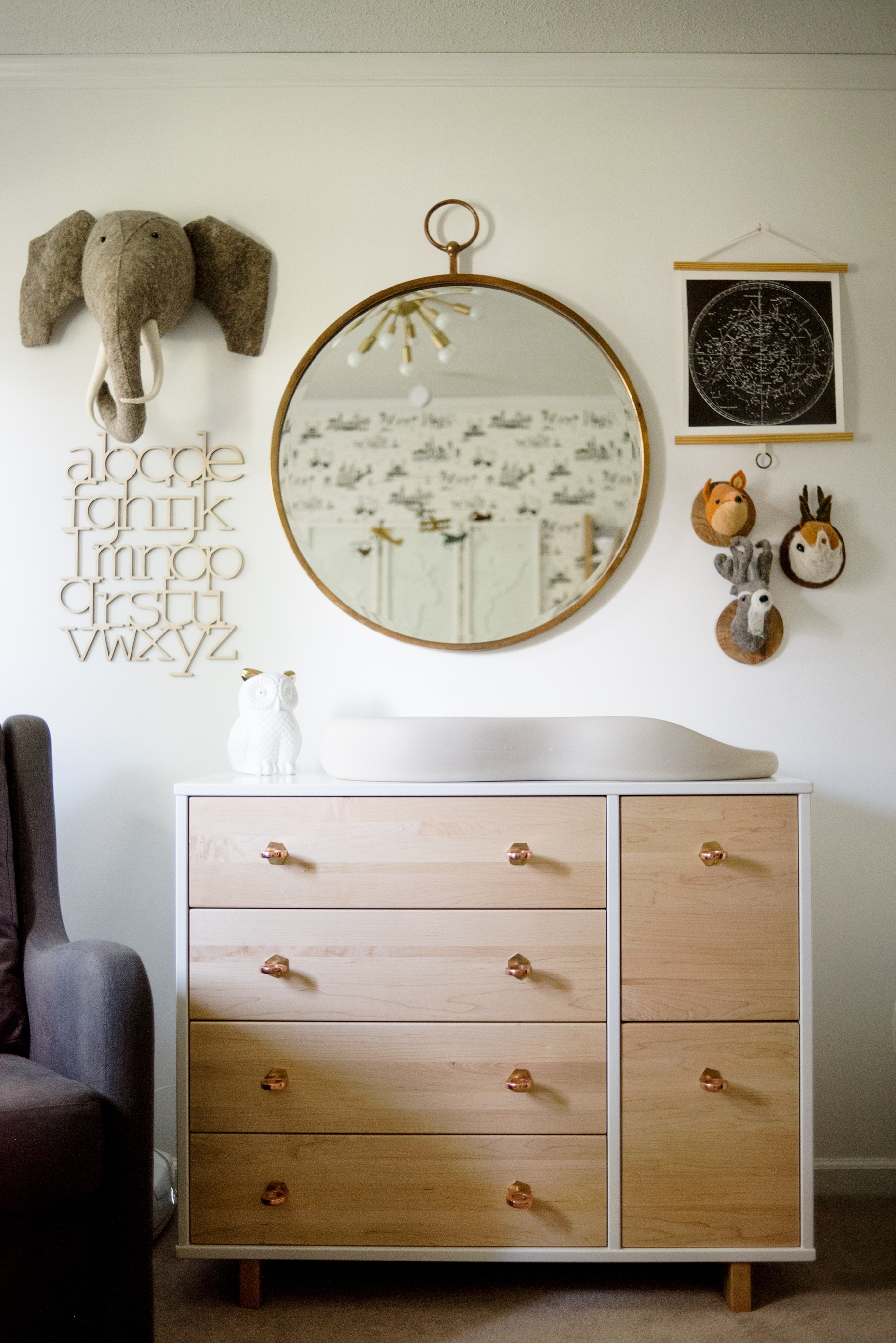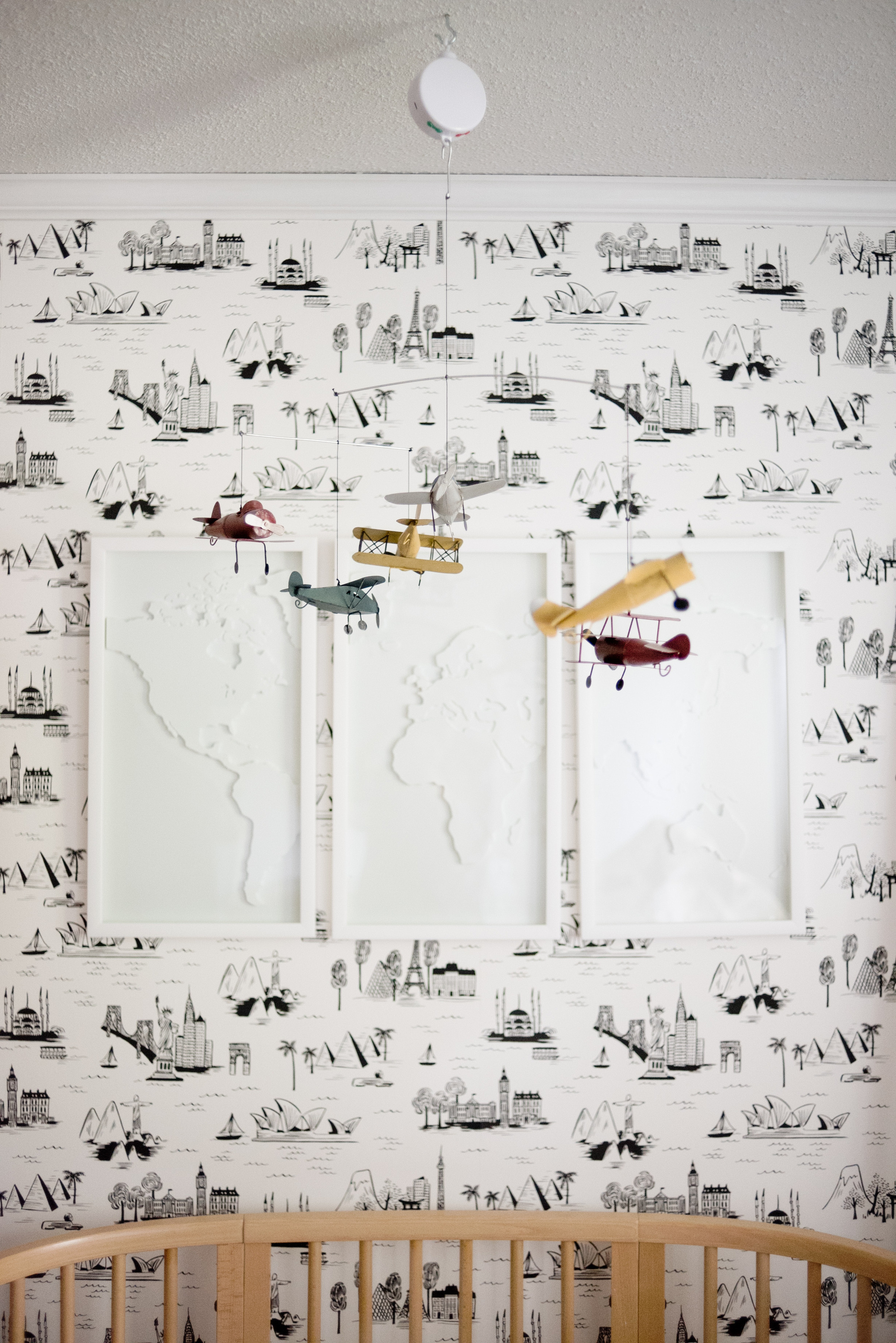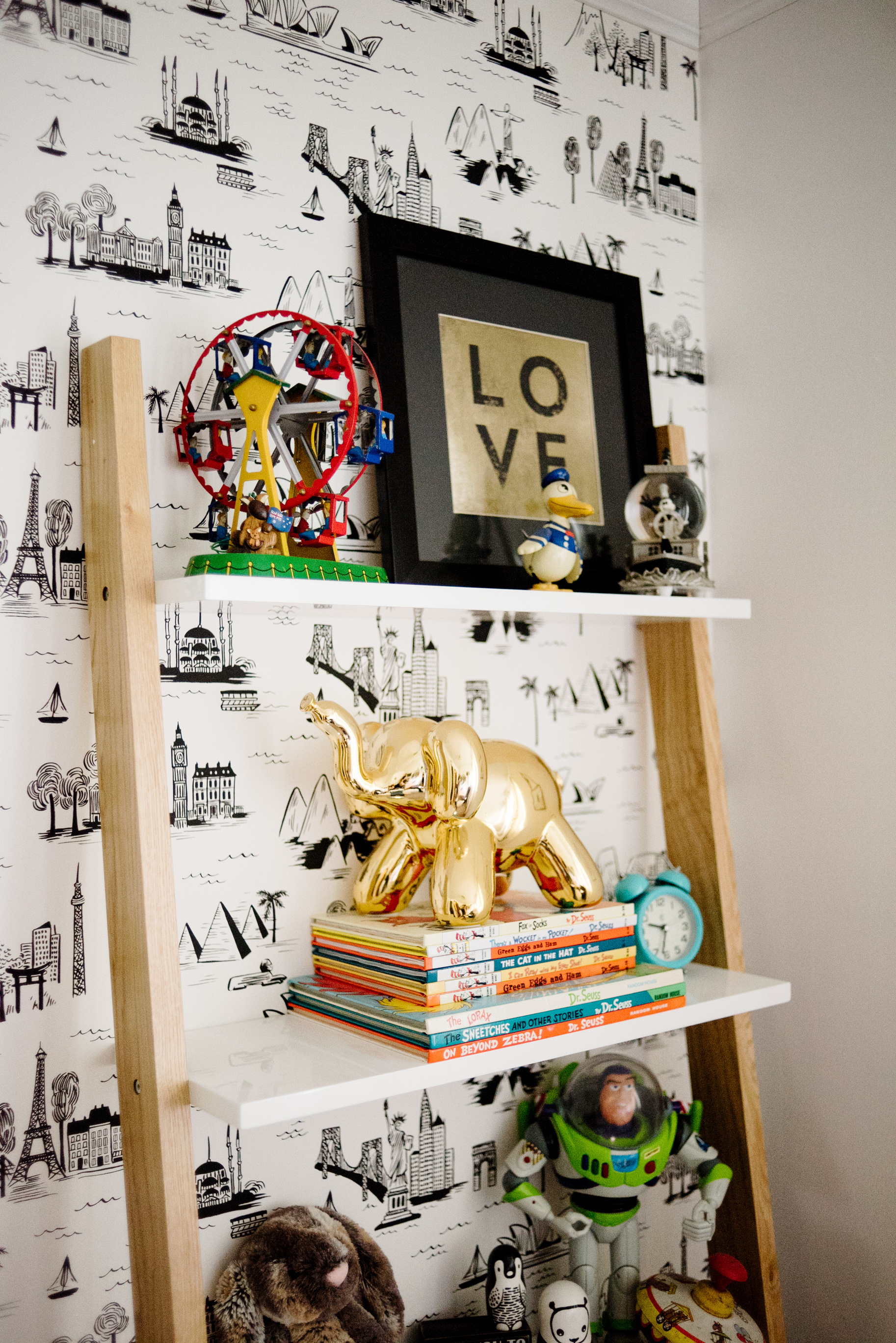 shelves were from Urban outfitters but aren't there any more, dresser, hamper, pouf, mirror, owl lamp, scallop baskets, drawer pulls, elephant head, plane mobile, alphabet wood cut, stokke crib, diaper pail, curtains, ceiling light,