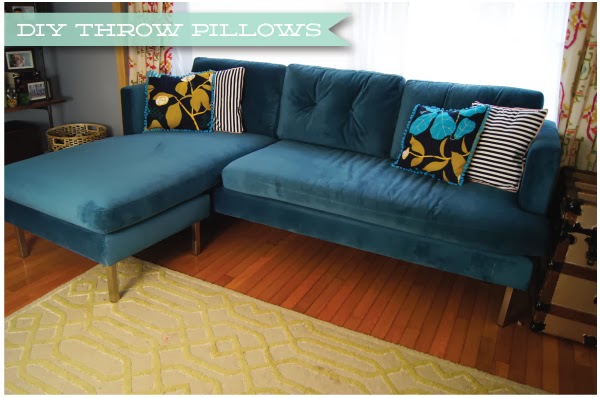 Sometimes the easiest way to refresh a room is to make new throw pillows. It's an easy way to introduce new patterns and colors into a room without spending too much money. I had bought some
fabric last time I was in Boston and decided it would be a fun print in our living room. Since it was a little pricy I bought just enough for the fronts of two pillows, figuring I could use some cheep fabric for the back. I paired it with a basic striped fabric I bought from Ikea and some pompom trim I had laying around, I'm pretty happy with how they came out!
When it comes to choosing fabrics, patterns and colors for throw pillows, don't stress out about it too much, things don't have to match perfectly to look great. My Mom always jokes that I don't like anything to match because I never want to buy furniture, plates, or linens in sets, I like to mix and match to get something that feels unique. My basic rule of thumb, make sure the scale of the patterns and color pallets feel like they could be friends, they don't need to be twins or even siblings, they just need to look like they could hang out together and have a good time! See the full how too below.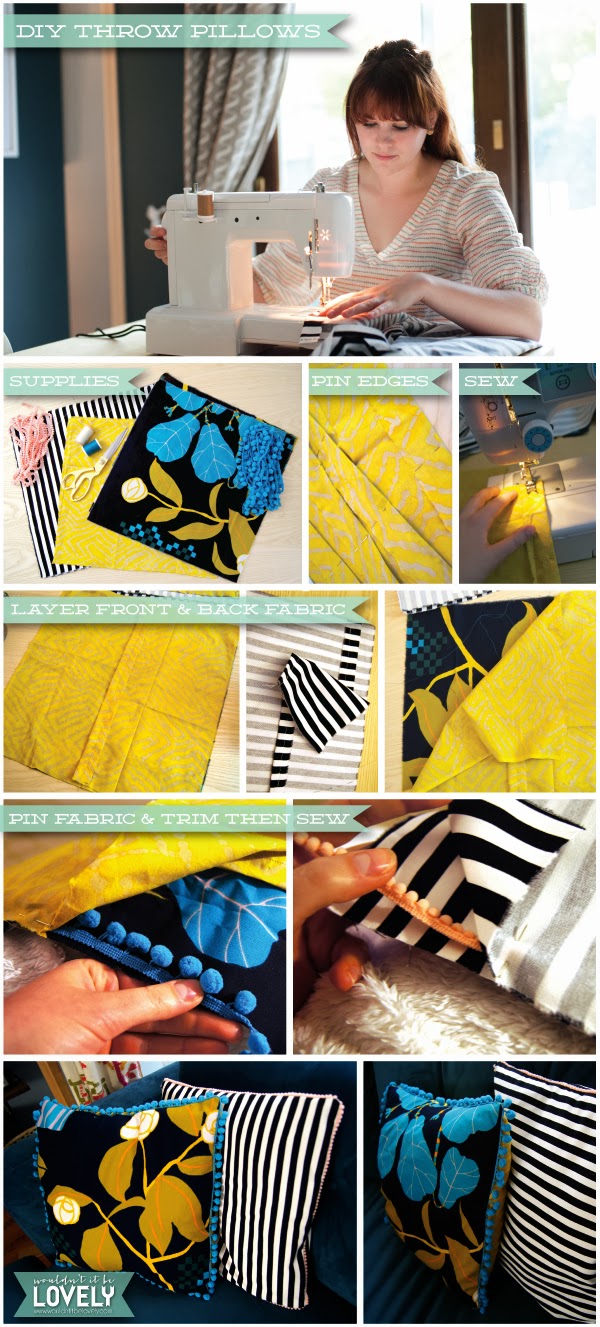 So let me preface this DIY by saying I am by no means a pro at sewing. I'm awesome at strait lines and basic patterns, but it's something I do out of necessity, not love. So I'm sure there are better and more "by the book" methods to make pillows, but this is mine and it has worked pretty well! I avoid sewing in zippers because I find them annoying and I hate changing the foot on my sewing machine, so this is a great way to make pillows for a beginner (or lazy) sewer!
Supplies & Tools:
Fabric (I made 15x15in pillows, so usually 1/2 yard of fabric for a pillow is more than enough)
Thread that matches your fabric
Sewing machine
Fabric Scissors
Pompom trim (optional)
Process:
Cut front square of fabric, cut it about 1inch longer and wider than you need for seem allowance
For the back, I like to make a pocket to slide the pillow into so I don't have to sew in a zipper. So cut two pieces of fabric the same height as the front, but the length of the two should only be about 2/3 the length of the front.
Finish one edge of each of the back pieces of fabric (the long edge) see photo above.
Layer the front fabric and back fabric with the good side facing each other, making sure the two back pieces take up the same amount of space as the front, they should have a couple inches of overlap to create your "pocket" style pillow case.
Pin the edges of the fabric for sewing, if you are using trim, pin that along the edge as well. When pinning, put in the pins horizontal to where the seem will go so that you don't need to remove them as you sew!
Once you've sewn all the edges, remove all your pins and turn it right side out! Slide in your pillow insert or stuffing and you're good to go! Yay pillows!