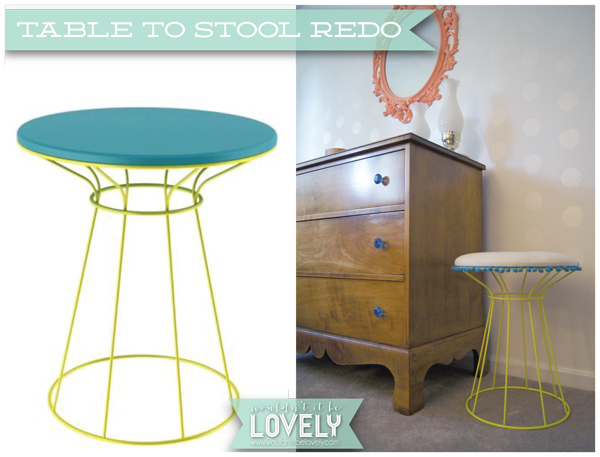 I saw this cute little table at Target not that long ago, and when I was there the other day, it was in the sale section for only $15! Though it's a nice table in it's own right, it's meant for a dorm, and the inexpensive top material really reinforces that. The metal bottom is amazing and had great potential! I've been looking for a little seat for our guest room and knew instantly that this would be the prefect base for a cute little upholstered stool!

Materials:
Target side table
Wood cut into circle the same size as the top of wire table
Cotton Batting, some super thin and some 2 in thick
Fabric for top
Pom Pom trim (optional)
Button for tufting (optional)
Tools:
Electric screw driver
Staple gun and staples
Hammer
Scissors
Glue gun
Process:
Unscrew bottom and top of table
Screw a hole in the middle of the wood you have already cut to size
Layer thin batting, the 2 in batting you have already cut to be the same diameter as the wood, and the wood circle on top
Pull thin batting tight and staple to wood top. Work from one side to the opposite side, then across the other direction, pull tight and continue in the same manner so that it is evenly pulled and there are no wrinkles.
Repeat process with fabric
If you want the bottom to be neat and flat, cut another piece of fabric a little smaller than the diameter of the wood and glue over stapled area
Glue trim to bottom (you can glue instead of sewing it in this instance because it's not a high abrasion area so it will not be pulled off or stretched when people sit on it)
Feel where for the hole you drilled earlier and push needle and thread through to the other side.
Thread through the button and go back through the hole.
Pull both ends through another button, pull tight and knot to create tufting on the top.
Screw the upholstered piece to the metal base the same way the top was attached.
Flip it over and you're all done! Hurray for easy upholstery projects!!