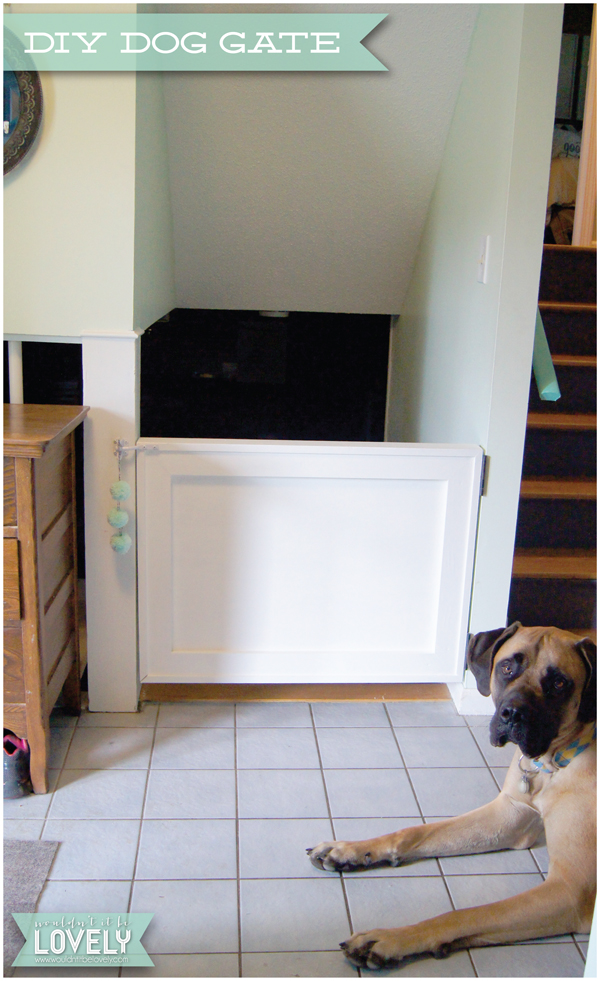 Recently, we had a little doggie mishap. I thought it was time to test Truman out of his crate while we were out for dinner. He's such an angel when we're home, even when we're outside and he's alone inside he never gets into trouble. You can probably see where this is going. We left him out in the mancave while we were gone. We had two kiddie gates on the stairs to keep him down there. When we returned, there was a hole in the couch cushion, the door to the laundry room had been forced open and two shirts and a towel were ripped to shreds, last but not least, the dog gates had been ripped out of the walls. AWESOME. We've established that Truman doesn't like being left alone. That being said, it was still time to make some new dog gates for when we want to keep the dogs in one room or another. I wanted something a bit nicer than anything I could find online, so a project was born. The only supplies needed for this projects are a couple of 1x3in lengths of pine, some 1/2in plywood and some wood screws. The whole project took about a day, the painting taking up the majority of the time. You can see the process and "how-to" below.

We needed two gates, one at the top of the stairs to the basement and one at the bottom. As the bottom one had to attach to the railing, I had to be creative with the latch, using a sliding door lock on that one and a standard gate lock for the top gate. I just used standard door hinges to attach them to the walls, making sure to screw them into the studs to insure they can withstand a Truman attack.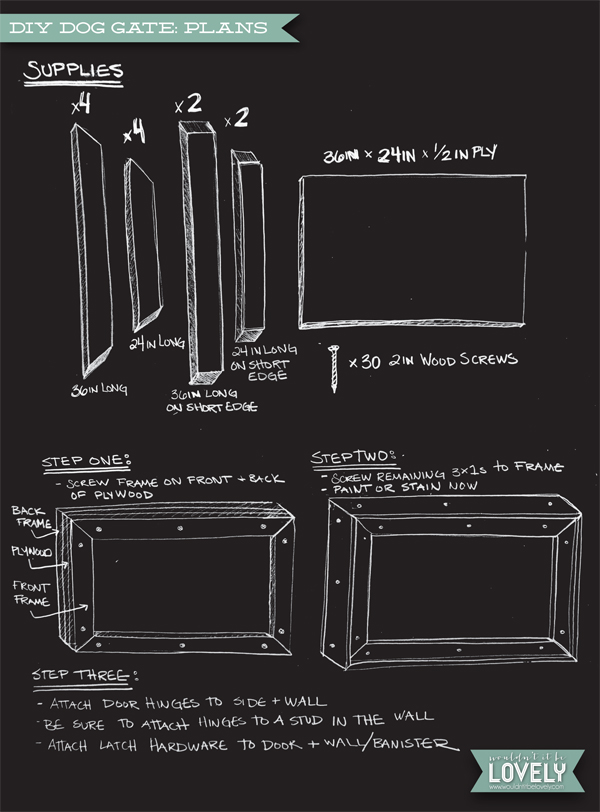 Tools:
Saw
Drill
Paintbrush
Materials:
1x3in lengths of pine (I used about 30 ft per door, my doors measured 36in wide x 24 in high)
1/2 plywood 2ft x 3ft
30 wood screws
paint or stain depending on the look you want
Wood Prep:
Cut wood to length, the frame on the front and back of the plywood need 45 degree miter joints on the long side of the wood. You need 4 of the shorter length and 4 of the longer length for both the front and back of the plywood. The top edge should be the same length as the plywood so they all line up. The final outer frame needs 45 degree miter joints on the short side of the wood to create a nice clean edge.
Whatever the width of your door is, make sure the plywood piece is 3 inches shorter to account for the outer frame and room to swing.
Process: See drawing above!