I've been searching for what seems like FOREVER for good pillow shams for our bed. This past week I finally had a good idea of what I wanted and decided to bite the bullet and make them myself. I'm not the best sewer, clothes are out of my ability, but sewing strait lines is doable which means I can sew my own pillows, curtains and other various items. That being said, I knew I wanted white pillows because our wall paint color in the bedroom is so dark that it needs to be offset with light bedding. So I decided to go basic white with fun pompom trim and words on the euro shams that could be rearranged for different moods! Especially for all those rough mornings! Here is what I did, and how I did it! Do you love how Lincoln posed for all the pictures? Silly puggle. (All the instructions are listed below)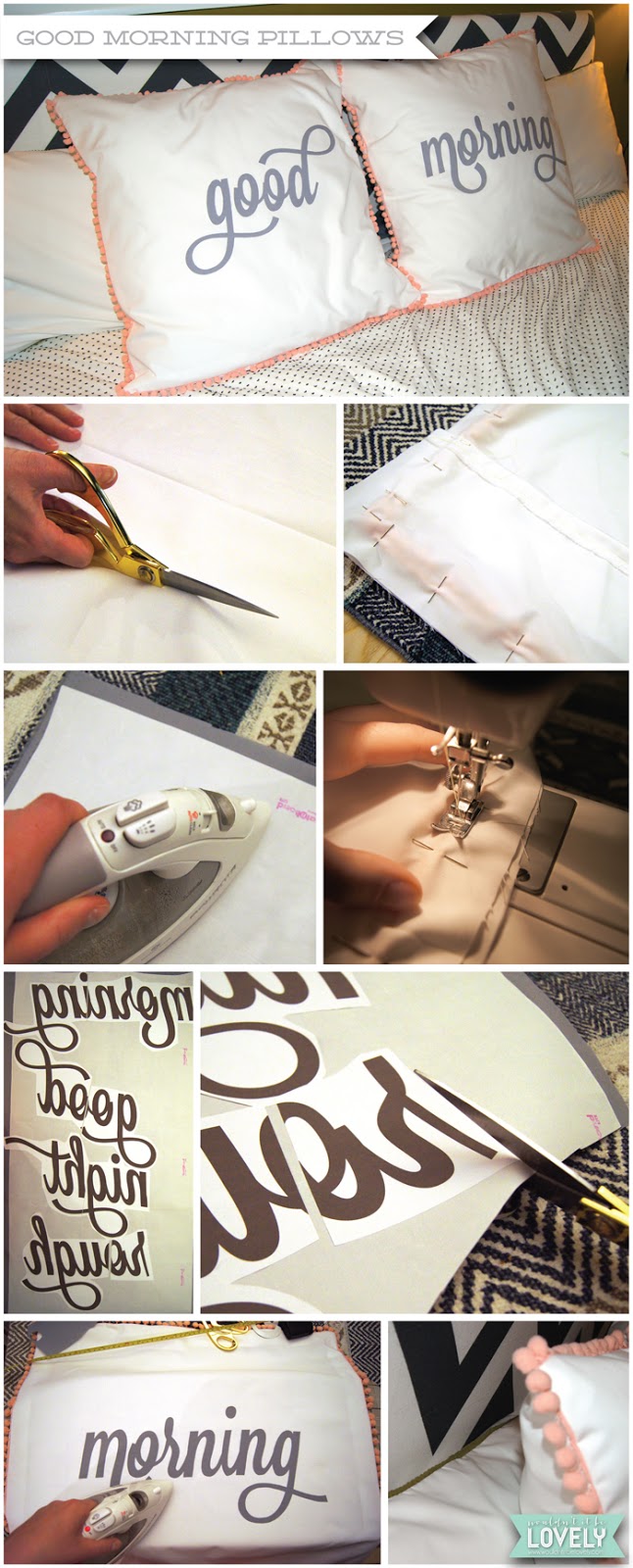 Materials:
Base Fabric- you'll need about 7 yards for 2 king shams and 2 euro shams, make sure the fabric doesn't have any stretch to it, because then it's more of a pain to sew
Pompom trim, I bought mine online
White Thread
Fabric in whatever color and material you want the words to be in, about 1/2 yard
Double sided fusible webbing (the best tool EVER, especially for people who can't sew)
Process:
Measure out and cut fabric for pillows, Euro Shams are about 25x25in and King Shams are about 35x20in. Cut everything about 2 in larger than you need so you have room for pinning.
Pin Trim in-between fabric, FYI, the larger pompom trim is easier to work with.
Sew Edges- then turn right side out and the pillows are done! Next step, the words.
Choose what you want your pillows to say and pick a font (dafont.com has a good variety of free fronts) write it out and then reflect the words so that when you cut them from the back they will be the right side on the fabric.
Iron on fusible webbing to the fabric (don't peel off the paper yet! just iron the sticky feeling side to the fabric) make sure the steam is off on the iron. Glue or stick on the words you printed to the fabric. Then cut them out.
Once the words are all cut out, peel off the paper, now the back side of the fabric should be shiny, place it on the pillow and iron it on! All done!!