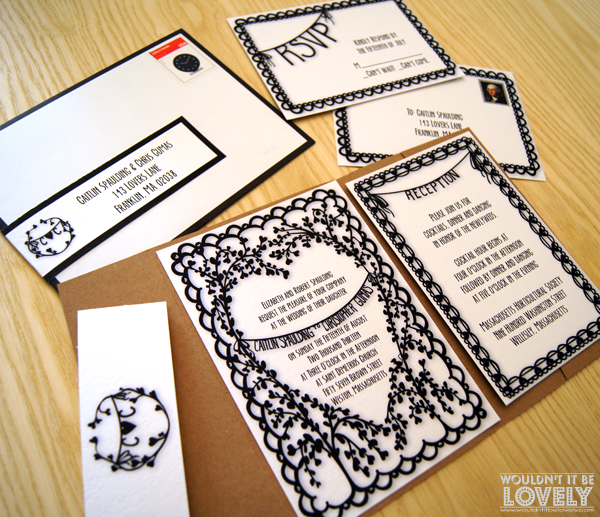 Ever wanted a do over? The past week I have been working on taking products I have designed for past couples and converting them invitations that are ready to order. Once the store is up and running (I've been hitting a couple snags in getting it going, writing code and setting up websites is not my specialty, the learning curve is a bit wider and longer than expected) I'll be able to fill the store with Invitation Suites, Save the Dates, Birth Announcements, Gifts, Favors and more that can be personalized and ready to go on a much shorter timeline than the custom designs I specialize in.
The wedding invitation in this post is actually the very first I ever designed, my own! It seemed fitting that this should be the first redesigned as it was the one that started it all!
is the original, it's amazing when I look back to see how much I have learned about typography, printing and layout. I still love the inspiration of
and his paper cut art that I used as a jumping off point. I actually kept all of the paper cuts I had made for this and just re-oriented and recolored the whole thing adding in some shadows so it really feels like it's a paper cut set off the page. I changed the fonts, the color pallet, and just cleaned it up a bit. I also took off some of the personal touches on ours for the one that will be in the store, no more
profile! I think it's a perfect redo almost three years later! What do you think?
P.S. I'll get the store up and running soon, but in the mean time, check out the pricing at the bottom of the
if you'd like to order something, or just shoot me an
!